Poker has existed in one form or another for half a millennium. This game of chance is a global superstar with seemingly countless versions played by millions of people. If you're new to poker, this variety might seem overwhelming, but we have good news.
There's a core set of rules and principles that is relatively easy to learn and will apply to most variants out there. This article will show you the basics and give you tips on how to learn them easily.
Poker Hand Rankings — The First Step to Success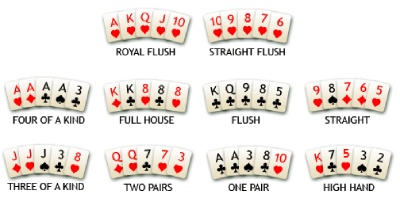 Most poker variants are played with one standard deck of cards. Typically, the Joker is excluded, although some versions include it as a "Wild," meaning that it can help you form different combinations. Each participant is dealt a set of cards known as their "hand." In the vast majority of cases, the hand consists of five cards.
A person with a strong set of cards is in a good position to win, so understanding poker hand rankings is crucial for any beginner. We'll list them below, starting from best to worst:
Five-of-a-kind - This hand is only possible when playing Wild card poker, as a standard deck doesn't contain five cards of an equal rank. For example, four Jacks and a Joker are a 5-of-a-kind.
Straight Flush - Five cards with sequential ranks (e.g., a 2, 3, 4, 5, and 6) that are of the same suit. The strongest straight flush is called the "Royal Flush" and is formed by an Ace, King, Queen, Jack, and 10 of one suit.
Four-of-a-kind - Four cards of the same rank plus a random card.
Full House - This one consists of a pair and a 3-of-a-kind (check out these terms below).
Flush - Five cards of the same suit. Remember that if their ranks are sequential, you have the stronger "straight flush" hand.
Straight - A quintet of cards that are in sequential order but not of the same suit.
Three-of-a-kind - Three cards of the same rank plus two random cards.
Two Pair - Two cards of the same rank plus another two of the same rank with one random card.
Pair - A couple of cards of the same rank plus three unrelated cards.
High card - Oftentimes, you'll be dealt five unrelated cards. This combination is defeated by all others. You can only beat someone who also has a high card that's lower in rank than your most valuable card.
What happens if there's a tie?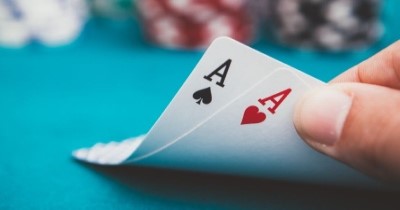 In 5-card combinations such as straight, flush, and straight flush, the highest-ranking card breaks the tie. With a full house, the higher-ranking 3 matching cards decide it. If the hand contains unrelated cards, the highest-ranking of those (called the "kicker") breaks the draw.
Useful tip:You don't need to stare at this text for hours to try and remember all of the combinations. Have some fun at it by looking for a free-to-play online version of "Jacks or Better" video poker. These games contain a paytable that shows you all the hands we discussed above. Whenever a certain combination appears, it will be highlighted, so you can easily spot and learn it.
A Small Glossary of Essential Poker Terms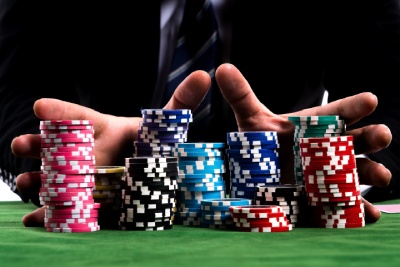 This section contains poker lingo that any aspirant should know. There are many other terms specific to different versions of the game, so we encourage you to do additional research once you decide what you want to play.
Ante
This is a small bet required from every player who wishes to participate in a round. It's also used in versions where you play against the casino.
All-In
When you place all of your chips into the pot, you're "all-in."
Blind
This is an obligatory bet used in flop-style poker like the super popular "Texas Hold'em" variant. The blind can refer to both the big and small blind wagers.
Bluff
When the player's hand is bad, but they act like it isn't in an attempt to deceive their opponents.
Call
Betting the minimum amount of chips required of you to continue playing.
Check
Advancing through a poker round without increasing your bet in any way. It's only possible if another player hasn't raised the stakes.
Community Cards
Used in Texas Hold'em, Omaha, and other popular variants. These cards are dealt face-up at the center of the table and are available to all players. They help you form a hand in combination with the face-down cards you receive.
Fold
When you get out of a hand and lose whatever you've wagered so far on the table. Folding is useful when you have weak cards and don't wish to continue betting.
Hole/Pocket Cards
The face-down cards that each player receives. These are not part of the community cards and remain unknown to other participants.
Pot
Refers to all the money wagered by players during a single round of poker.
Where to Start with Poker
Choosing the right starting point is largely dependent on your goals. If you just want to learn the basic hand combinations, playing free video poker online will be useful. Once you nail down the basics, you need to determine what type of poker you intend to play and how. If it's Texas Hold'em, we recommend joining a low stake or free-to-play room in one of the big poker sites.
Those who wish to play offline would benefit from organizing small get-togethers with their friends. Remember, money is not required to start, you can play with matchsticks or anything else you deem appropriate. Remember to have fun and play conservatively when you start betting cash. As with everything else in life, there's a learning curve with poker, and you don't need to pay dearly to gain the required experience.
Discover the Revel Resort Casino and see what it can offer you, learn which are the most preferred card games among players, find out what you do not know about roulette, slots and more.