If you ask a seasoned casino player about the best form of gaming, they'll likely tell you to learn blackjack. This classic table game has always been a star attraction in real-world and online casinos. The reason for this is simple — the house always has a mathematical advantage over you when you play against it.
However, skilled blackjack players can reduce this edge to less than 1 percent. If you'd like to know how, make sure to read this article carefully. We'll go over all the essentials and tell you about the right and wrong ways of playing the so-called "games of 21."
The Basic Blackjack Rules You Need to Know
For starters, you should know that this game is played with standard playing cards, much like poker and baccarat. The only card that is not in play is the Joker. In brick-and-mortar venues, people gather at a blackjack table that usually hosts up to 8 players, and each individual competes against the dealer. Players always go first, usually in a clockwise direction. In online versions, you'll often play alone against the computer or in "live casinos" that imitate the real-world experience.
Once bets are placed, the dealer will distribute two cards to each player and two to themselves. Typically, both of yours will be face-up, while the croupier will only show one. Do note that some casinos also play the game with face-down cards as a way to prevent card counting.
Your goal is to beat the house by obtaining a higher point total. The strongest hand is an Ace plus a 10-value card, which forms a 2-card 21. It's known as a blackjack or a natural. It's also possible to improve your hand by drawing additional cards. Keep in mind that if you go over 21 points, the game is over — you'll lose your bet, which is known as "busting."
Here are the point values for each card:
Aces are the most valuable, as they count for 1 or 11 points. This double functionality is useful. Hands containing an Ace provide a one-time safety net if you draw a card that takes your point tally over 21;
The dressed cards (Jacks, Queens, Kings) are valued at 10 points;
Numbered cards grant points according to their face value (e.g., a 5 is worth 5 points);
The four cards suits are inconsequential in traditional blackjack;
How to Improve Your Hand
Hit - That's blackjack lingo for requesting another card. You can do it as much as you like, but once your hand goes over 11 points, drawing additional cards comes with the risk of losing. In real-life tables, you gesture for a hit by tapping on the table.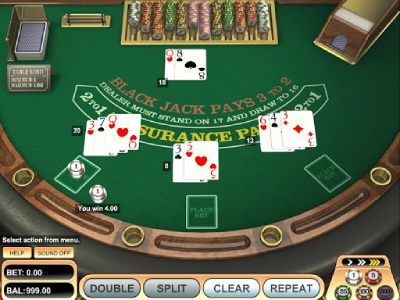 Stand - When you're happy with your point tally, you conclude your turn by standing so that the next participant or the dealer gets to play. Do so by waving your hand over the cards from left to right.
Double Down - his is an interesting alternative to hitting. If you believe that you can beat the dealer by drawing exactly one more card, you can attempt this move. As the name suggests, it doubles your initial wager. Usually, doubling down is possible exclusively on 2-card hands, so you won't be able to do it after a hit. To perform this move, turn your cards face-up if they aren't already, then place a second stack of chips next to the first one, and hold up one finger.
Split - Are your two starting cards of the same point value? Then you can split them into two separate hands. Much like doubling, you'll need to increase your wager twice fold for splits. The gesture is also similar, with the only difference being that you have to hold up two fingers instead of one. Hitting splits is okay, but you'll need to ask whether you're allowed to double following them. There are also rules regarding re-splitting, so it's best to confirm this information with the croupier. Usually, when splitting an Ace pair, only one additional card is drawn per hand, and your turn is concluded.
Regulations for the Dealer
The way in which the dealer acts is pre-determined and won't change throughout your play session. Usually, they always draw cards until their hand reaches 16 points and stand on a 17. At some tables, the croupier will stop drawing on any 17, while on others, they will continue to draw if their hand is "soft" (contains an Ace).
Another variable is the number of decks used in the playing shoe. Remember that the fewer cards are in play, the better it is for you. Thus, you should always look for single-deck versions, but even playing with 8 decks is okay if the other rules aren't too restrictive.
There's also this thing called the "peek rule." The croupier might check for a blackjack if they're displaying a 10-value card or an Ace. This is good, as it could save you from doubling or splitting against a blackjack.
Lastly, whenever you're facing a dealer Ace, you'll be offered insurance. This move costs 50% of your base wager and covers it in the event of a blackjack. Still, it's better to skip it, as the odds are in your favor.
A Quick Guide to Blackjack Payouts
If you obtain a higher point tally than the dealer or they go bust, you'll win as much as you've wagered;
When you get a blackjack, the payout is boosted to x1.5 your bet;
Drawing with a score of 17-21 results in a push (your stake is returned);
Busting or scoring lower than the dealer means that you'll lose your bet and any additional wagers on doubles/splits.
Use Basic Strategy for the Win
You determine how to play your cards, but there are better and worse ways to go about it. If you want to minimize mistakes and maximize your returns, you need to learn "basic strategy." This approach is based on statistics. It relies on the information you have — your hand and the dealer's face-up card.
Unlike card counting, this method is not frowned upon, as it doesn't eliminate the house edge. You can use a basic strategy chart in the free-to-play versions of online games to learn it quickly. Search for a traditional game, then look for a basic strategy chart that matches its dealer regulations and the number of decks.
If you are not certain if cards and strategies are your thing, we kindly advise you to read more about Roulette - a game of chance that you'll always find on the casino floor.