As a game associated with James Bond, celebrities, and the French nobility, baccarat is almost surrounded by an aura of exclusivity. However, this game is neither reserved for high rollers nor hard to comprehend.
In fact, it's the best choice for new players of all budgets who want easy access to some of the highest return rates in gaming. Our review contains a few short sections that will help you understand the main aspects of baccarat. Read on and learn how to play confidently in any real-world or online casino.
The Basics of Casino Baccarat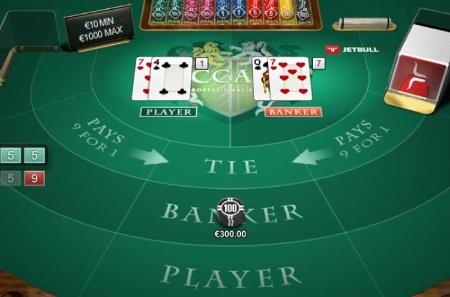 You can think of baccarat as the card game equivalent of a coin flip. Players mainly pick between two bets — the "Player" side (also known as "Punto") and the "Banker" ("Banco") side. There's also the option to bet on a tie, but we don't recommend it for two reasons:
The "Tie" wager has a significantly higher house edge than the other two options.
If both sides draw and you've staked on Player/Banker, your bet will be returned.
The baccarat version you're most likely to encounter today is called "Punto Banco." What's specific about it is that the dealer takes care of everything, so your sole task is to figure out where to place a wager. After everyone bets, the croupier deals two cards per side. The hand with a point tally closer to 9 wins.
Of course, remembering the value of each card is essential:
10s and dressed cards (Jacks, Queens, Kings) are valued at 0 points.
Aces count for 1 point.
All the numbered cards carry their face value.
Let's take an example to clarify what we've discussed. You see an Ace and an 8 on the "Player" side, while the "Banker" receives an 8 and a Jack. Which side wins? If you've answered "Player," you're correct! The Ace equals 1, so 1+8=9, while Jack=0, so 0+8=8.
Now, you might be wondering what happens if a side receives cards with a tally that exceeds 10 points? In this case, 10 is subtracted (e.g., 6+6=12-10=2).
The "Third Card" Rule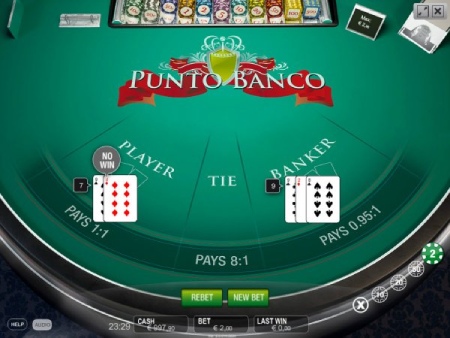 If a hand's value is low after drawing two cards, the dealer might draw a third one to it. This rule is a bit complicated, but it's good to read it a couple of times to have a notion of what's going on. First, it's important to note that a third card won't be drawn to both sides if either one gets an 8 or a 9. If that's not the case, then the following scenarios can occur:
The "Player" side will receive an extra card whenever their hand is between 0 and 5 points. If they have a 6+, they don't draw a third one.
If the "Player" stands on a 2-card hand and the "Banker" has 5 points or less, the latter side draws a third card.
Here's how the "Banker" will react if the "Player" receives a third card:
The "Banker" always draws on a total of 0, 1, or 2.
If the "Banker" has a 3, they will draw in all cases except if the "Player" receives an 8 as their third card.
The "Banker's" total is a 4, they draw if the "Player's" third runs from 2 to 7.
The "Banker's" tally is a 5, they'll draw if the "Player" receives 4, 5, 6, or 7.
If the "Banker" has a 6, they get a third card when the "Player's" extra card is a 6 or 7.
The "Banker" always stands on a total of 7.
Baccarat Payouts & Odds
At the end of this beginner's guide, we'll talk about your potential rewards and the house edge attached to each option. A successful bet on the "Player" side will win you as much money as you've wagered. The same goes for the "Banker," except that the casino will take a 5% commission off your winnings, making the payout 19:20. The reason for this is that the "Banker" has a slightly higher chance of winning, as they get to go second and react to the "Player's" hand.
Still, the "Banker" is the better bet, as it comes with a house edge of 1.06%. Meanwhile, the casino's advantage is 1.24% on the "Player" side. As for "Tie," you get an increased payout of 8:1 (sometimes 9:1), yet the reward doesn't match the odds. Its RTP rate is 90.5%, so it's best to stay away from it unless you have a thing for taking long shots. The same goes for the many side bets you may encounter. They are supplementary and can be fun, but their return rates are always worse than your two main options.
If you're interested in playing card games you may as well check out our quick and easy Poker guide or read more about how to play Blackjack.