The Revel Resort casino is a sparkling destination that is perfect for anyone who loves to gamble. Located on the Atlantic coast, it commands spectacular views over the ocean and luxurious facilities that are certain to impress. Of course, that's nothing compared to its outstanding gaming floor. Whether you're a fan of slots or table games, you'll find something to love here, all in one convenient and beautifully designed location.
Discover the Revel Resort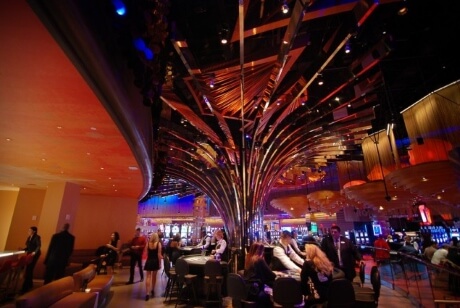 Having paired up with Sceno Plus, Revel Resort has created an impressive gaming floor which encompasses no less than 130,000 square feet. Despite its size, you'll find it intimate and welcoming. It's not just about gaming – at the Revel Resort it's all about the experience, and the social scene here is truly superb.
Unlike in the dark and enclosed gaming floors of Sin City, you'll find natural daylight here. If you're still playing when the sun comes up, you'll be stunned by the panoramic Atlantic Ocean views, and as the day goes on, the changing light changes the feeling of the floor. Once evening arrives, you'll find theatrical lighting setting the stage, so you can enjoy an intriguing night.
The design of this resort is spectacular. The suspended elements of interior design have created distinct and dedicated zones with their own unique appeal – when you explore the resort, you'll feel as if you're discovering inviting and warm neighborhoods.
There are a hundred gaming tables offering all your old favorites as well as some exciting new titles to try, and for players who prefer slots, there's a wide selection of options to choose from. If you want to take a break from the action, go to The Mezz to take a stroll and look down over the busy gaming floor. With special guests, impromptu parties and outstanding performances by day and by night, the Revel Resort is sure to appeal to your sense of fun.
The DigiPit
The DigiPit offers a truly unique experience that dedicated gamers and gamblers alike are sure to appreciate. All the games may be digital, but your experience will be a long way from being virtual. Roulette and blackjack are on offer here with a central stage that hosts dancers and entertaining acts. You can explore the tables here until 3 am, giving you more than enough time to scoop the jackpot.
Revel Casino's Slots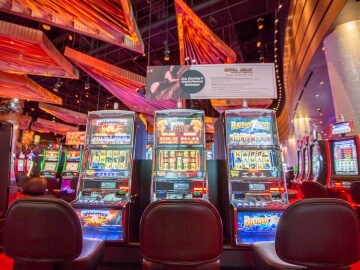 Who doesn't love a spin on the slots? At the Revel Resort, you'll find all your old favorites alongside brand new games in a host of different playing environments on the gaming floor. Each unique zone has its own personality, with slots that offer immersive experiences and an entertaining videocast which surrounds you during gameplay.
The Resort's Revelry floor is the hub of entertainment and gaming. You can enjoy seamless fun, moving between the different slot zones with the vibrant music and bar – The Social – just footsteps away. There are even nightclubs for you to dance the night away.
The Ultra Lounge
If you're ready to take your game to a new level of debonair, the Ultra Lounge should be your first. Here, you can find table games in an exclusive environment, with everything from blackjack to baccarat.
It isn't all about the gaming, however. If you're taking a break from the tables, you can mingle and relax in one of the cozy seating areas or sip on a glass of wine or a crafted cocktail from the well-stocked bar. You can also enjoy relaxing music while you admire the amazing ocean views from the full-length windows.
Quality Table Games
If you're heading to Atlantic City, you're certain to want to enjoy the best table games NJ has to offer. Revel Resort has no shortage to choose from. Whether you're passionate about blackjack, love craps or mini-baccarat, prefer to take a spin on roulette or have your own favorite poker game, the tables here can accommodate your preferences. There are even more unusual options like Spanish 1 and Fortune Pai-Gow Poker to satisfy the curious.
Poker Rooms You'll Love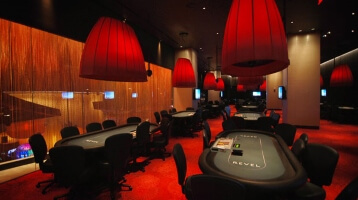 Revel Resort offers something for the poker-lover in everyone. On the dedicated poker room floor, you'll find every variant you could possibly imagine from Omaha and Texas Hold'em to Razz, HOSE, and 7 Card Stud. You can join in with the daily and guaranteed tournaments as well as the amazing daily promotions and bad beat jackpot.
The poker room offers a slice of high roller luxury for everyone. Its window wall lets you look out on the lower casino floor while the 37 tables ensure you'll never have to wait for a hand. There are even helpful servers who can bring you your favorite beverage while you play. If you're too engrossed to leave your table to eat, there's a poker room menu that you can order.